Mantis
Mantis or TCFKAB (The Coaster Formerly Known As Banshee), is one mean and out of control bug. Originally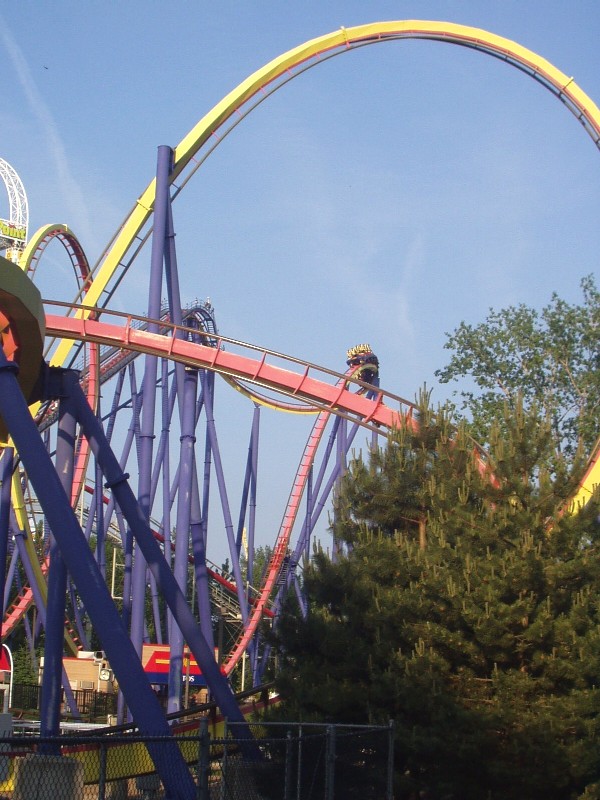 named Banshee, several people protested the name and the park change the name 4 days after the announcement.
The ride itself is different - mainly because one is not used to standing up for a ride on a roller coaster. After traveling up the 137 foot high lift hill, riders are treated to a nice view of the front of the park before turning and dropping. The first thing that catches some people attention is a the brake on the first drop. Don't get mad - because it helps the ride - as one will experience some wonderful "hang time" while traveling through the vertical loop. After traveling through 3 loop, the train enters the block brakes before dipping down and getting turned every which way (including up-side down one, in an corkscrew).


Ride Facts
Inaugural Season: 1996           
Track Length:3,900 ft
Lift Height: 145 ft
Vertical Drop: 137 ft
Angle of Drop:52 
Trains:3
Designer: Bolliger & Mabillard
Speed:60 mph
Time:2:40
Riders Per Hour: 1,800
Price to Build: 12 million
People Per Train: 32
Height to Ride: 54 inches
Intensity: