Magnum XL-200
In 1989 Cedar Point decided to take roller coasters to a new limit with Magnum Xl-200. At 205 feet tall, Magnum was the first roller coaster to break the 200 foot barrier.
Magnum starts off with a climb up the huge lift hill that looms over Soak City and Challenge Park. The 195 foot first drop has been voted one of the world's best first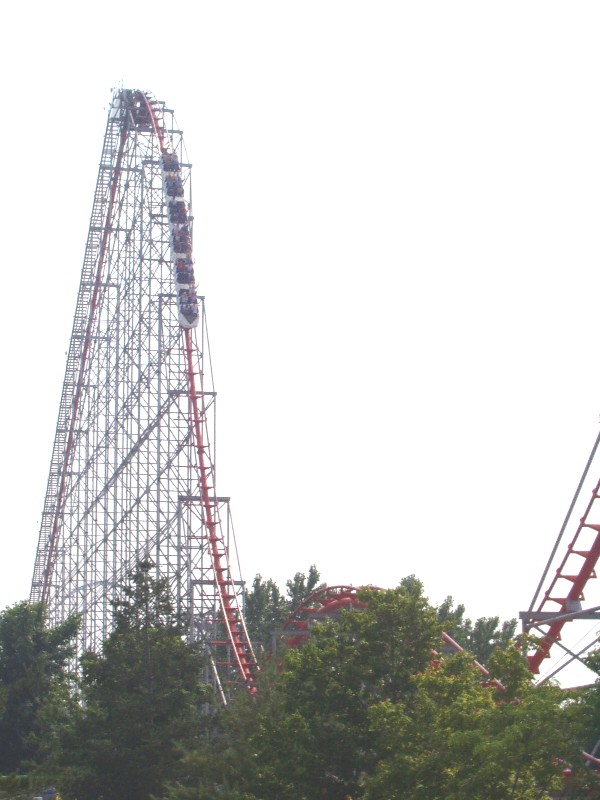 drops. The second hill is filled with airtime, and also drops on the banks of Lake Erie. The 80 foot tall third hill provides outstanding airtime. After the third hill there is a turnaround, which is the roughest part of the ride. After the turn there is a total of 7 great bunny hops, all of which are filled with great ejection airtime. See the pattern - airtime - Magnum provides some outstanding airtime time.
Many coaster enthusiasts swear the best seat on Magnum is Car 1, Seat 3. This seat is known to provide some of the best airtime on the ride. If there was a roller coaster that was president, Magnum would be elected it. Why? Because the ride is fun and enjoyable, a ride that all can have fun on. If there were a record for the ride that be voted Number 1 the most, Magnum would win. If there was award for the best location for a roller coaster, Magnum would win. Magnum also started what is now called the "coaster wars" - year after year, new rides, bigger - faster ones open.

NOTE: Despite popular belief, Magnum XL-200 is not being sold. It is also not sinking. Those were just a few jokes started on April Fools Day.


Ride Facts
Inaugural Season:1989
Track Length:5,106 ft
Lift Height:205 ft
Vertical Drop: 194ft. 11in.
Angle of Drop:60 Degrees
Trains:3
Designer: Arrow Dynamics
Type: Hypercoaster
Height to Ride:48 in.
Speed: 72 mph
Time:2 minutes
Riders Per Hour:2,000
Price to Build:8 million
People Per Train:32
Structure: Steel
Intensity: