Great Bear Lodge
Opened in March 2001, the Great Bear Lodge was a instant hit. Located a mere 5 miles from Cedar Point, Great Bear Lodge is successful all year long. I had the chance to stay the Great Bear Lodge numerous times, and below is a few points I would like to share about the place.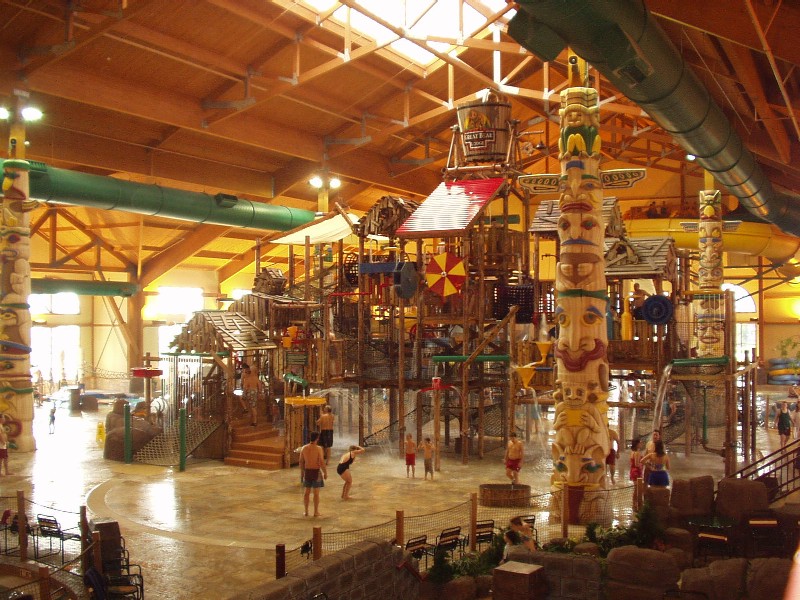 Atmosphere - Wonderful! The entire lodge exterior looks like a wooden cabin, while the interior is decorated greatly to give guests a "wilderness feel."

Location - Terrible. While it is located near a expressway and Cedar Point, the lodge is practically in the parking lot for a supermarket and is right next to a mall. Which is strange for a place with a wilderness theme.

Rooms - The rooms are done up very nice - even the "cheaper" rooms don't lack when it comes to being decorated nicely. The kids cabin room, is very neat as it features a special area of the room for kids! The most expensive suites offer a second floor, which has a bed and bathroom.

Water Park - Kept at a very comfortable 80 degrees, visiting the water park is also a fun time. At the center of the park is a large water playhouse, which people of all ages will love. Other attractions include a lazy river, large raft slides, body slides, hot tubes, kiddy areas, and a regular pool. During the summer months, a outdoor pool is open.

For what ages? - The lodge has something for everyone. Besides the water park, there is an arcade, two restaurants (one with a bar), and a convention center. Not-to-mention the theme of the hotel will be enjoyed by all.
All in all, the Great Bear Lodge is a great place to visit any time of the year. While the location isn't the greatest, the overall atmosphere of the resort is all around fun. For more information, visit the Great Bear Lodge's website. Also be sure to check out our photo gallery of the Great Bear Lodge.