Blue Streak - Cake/Model
This is a very fun cake to make, which can be tailored to fit your needs. Although it isn't difficult, it is time consuming. For me, what started out as a 9" round coaster cake blossomed into a four-foot model version of Blue Streak. All of the following dimensions can be increased or decreased to your liking.


BAKING
---
First, I decided I wanted 6 hills of various sizes. I baked, cooled and froze (which makes the cake easier to cut and less crumbly) one each of 6", 9",and 10" and two 12" round cakes. After taking them out

of the freezer, I laid the cakes flat and cut in half the 6, 9, 10 and one 12" cake. Then I cut the outside circumference of the other 12" cake about 2' wide to use as the ends. The remainder of this cake was used for varying the height of the hills and as straight-a-ways where needed.


ASSEMBLY
---
Next, I laid out all pieces (flipping the cake halves on their sides for the hills) to see how big of a board I would need. I covered a board with foil and again placed the pieces where they belonged. For the tallest hill, I used one 12" half with a 6" half on top. I ran a dowel through the center and built up the slopes with frosting. All other hills were either a cake half or combination of a cake half and strips layered to achieve desired height. Lots of piecing went into this cake! I decided to tunnel less than one hill to bring the queue line into the center, just like Blue Streak.


FROSTING THE CAKE
---
I frosted the entire cake with light blue butter cream frosting. Next, I put a very light "dusting" of white icing on the entire board area. I sprinkled some of this area with brown sugar to resemble dirt. Other areas were covered with frosting "grass" using tip #133. Then I added my message in a bright color so that it would stand out. I used tip #5 and white icing to add supports on the outside of the hills. Finally, I added a bead edge with white icing on either side of the entire length of track to resemble lights.


FINISHING TOUCHES
---
The people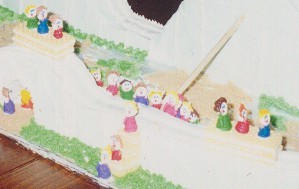 were fun to make. Using royal icing in many bright colors, I built up a body using #12 tip and arms using #5. The faces were "smarties" with #1 tip used for adding eyes, mouth and hair. Get creative with facial expressions and hair! For the hair there was of course straight and curly. But, people in cars going down the hill had hair flying straight back-or in some cases- "the Sandusky"! The people can be made ahead of time an attached to the wafer "cars" with a bit of frosting. Caution: to keep those cars going down the hill from rolling, insert toothpicks. To construct the loading and unloading platform, I used wafer cookies to both bring people up and then back down to exit the ride. A little icing between cookies will keep them in